Our old web site, 2011-2016, please click here: http://www.federacjaszpitali.pl/24.html
"The most representative hospital organization in Poland"
Polish Hospital Federation was founded in Warsaw on 10.10.2011 and was admitted as a full member of the European Hospital and Healthcare Federation on 19.11.2011 at the meeting of the Board of Governors in Dusseldorf

QUICK FACTS ABOUT POLISH HOSPITAL FEDERATION "PFSz"
Contact in English: jjf@pfsz.org; +48 509 754 724
Legal status: nongovernmental organization of hospital employers, registered at the National Court Registry KRS
Governance: PFSz President, PFSz Executive Board, PFSz Managing Director
Supervision: PFSz High Council, PFSz General Meeting
Number of associated hospitals: > 230, over 65 K beds and over 130 K staff
approximately 1/3 of hospital resources in Poland
Signed cooperation agreements with local and specific type (i.e. county) hospital organizations and healthcare managers associations
all hospital models, sizes and reference levels in Poland are represented
Number of supporting members: 35
Web site visits: over 1000 per day , Visitors: over 400 per day (Apr 2020)
PFSz President: Jaroslaw J. Fedorowski, Univ.Prof., MD, PhD, MBA, FACP, FESC, FPAMC
————————————————————————–
CANCELED DUE TO COVID-19, PLANNED FOR 2021
HOPE Study Tour – Poland Hospitals of Kraków 2020
HOPE Study Tour – Poland, Hospitals of Kraków, 25 – 28 April 2020
"NEW-TECHS – Robotics and Telemedicine in Hospitals"
In cooperation with the University Hospital of Kraków
and the NEOHOSPITAL of Kraków
https://www.szpitalnaklinach.pl/
HOPE study tour 2020 04 Krakow
 Visit of Old and New University Hospitals of Kraków. Meeting with management of the newest and most modern public hospital in Poland.
 Polish Hospital Federation conference and discussion with Polish healthcare Authorities entitled: "Innovations in hospitals and healthcare systems – challenges for hospitals in Poland" in New University Hospital of Kraków.
 Meeting with NEOHOSPITAL management and presentation of new technologies dedicated to medical procedures in practice (incl. Da Vinci robotic surgery).
 Meeting with DIAGNOSTYKA company management – Presentation of telemedical diagnostic opportunities.
 Meeting with ALTHEA company management – Integrated Systems of Healthcare Management – Presentation and solutions for hospitals.
 Meeting with USECRYPT company management – Safe database and data transmission in healthcare management – presentation of technology and discussion.
  Price: 490,00 € (including three-night accommodation, meals and local transportation)
IBAN
PL 54 2490 1057 0000 9902 8068 5814SWIFT/BIC
ALBPPLPW
Alior Bank
Łopuszańska 38D, 02-232 Warszawa
Organizer: Polish Hospital Federation / Polska Federacja Szpitali (PFSz)
prof. Jaroslaw J. Fedorowski
PFSz President
Member of President's Committee and HOPE Governor for Poland
Program Coordinator: Mr. Bogusław Budziński
Vice Chairman, PFSz Supreme Council
National Coordinator of HOPE Exchange Programme for Poland
 All person interested to participate will receive a detailed programme by contacting boguslaw.budzinski@b-b.net.pl
Event:  http://www.hope.be/event/hope-study-tour-poland-hospitals/
Study Tour: http://www.hope.be/poland-hospitals/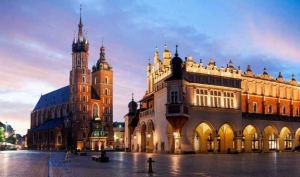 ———————————————————————————————————–
HEALTHCARE SYSTEM IN POLAND 2019
Constitution of the Republic of Poland (art. 68) /OJ1997, No 78 item 483/guarantees:
"Everyone has the right to health care"

"Public authorities guarantee citizens, regardless of their material status, an equal access to health care services financed from public funds."
The beginning of the system started in 1989 and then until 1998 national health system was financed by state budget, from 1999 – III 2003 functioned universal health insurance (17 sickness funds) and then from IV 2003 – X 2004 National Health Fund "Narodowy Fundusz Zdrowia" (NFZ) was established. NFZ is a key, national payer for health care serviced from public funds, the institution is supervised by Ministry of Health, acts not for profit, is divided into 16 regional branches, which organize contracting for healthcare providers.
Until now the system was based on Act of 27th August 2004 on health benefits financed from public funds, the Act of 30th August 1991 on health care institutions, the Act of 8 th September on Public Emergency Healthcare System.
For the past 13 years health care system in Poland has been delivered at 4 main levels of healthcare:
Primary Health Care (Primary care physician acts as a "gate keeper" to higher levels of the healthcare system)
Specialized Out-Patient Care (mostly referral based)
Inpatient Health Care (Hospitals)
Emergency Healthcare System

and some special areas like

Long-Term healthcare, rehabilitation hospitals, nursing and care related units, hospices

Psychiatric hospitals

Health Resorts, "sanatorium"
In the last decade over 760 hospitals (with emergency care services) and several hundred of short stay / day surgery hospitals have been in operation in Poland. Most of hospitals are public (90% of those with emergency care services) while most of other hospitals are private. Majority of hospitals provide services financed from public funds.
In 2017, the hospital sector in Poland is changing significantly.  The national network of hospitals has been in plans for the past 10 years and was finally voted on by the Polish Parliament in may of 2017.  The new network will start on 1st October 2017.
National Hospital Network, called officially the System of Fundamental Hospital Care Coverage, commonly known as "Hospital Network" divides hospitals into 6 levels, all providing emergency care services 24/7.
General hospitals:
1-st level (with 4 basic units: surgery, internal diseases, gynecology and obstetrics and pediatrics) – mainly county hospitals

2-nd level (hospitals having 4 basic units plus 2 specialized units) – larger county and some city hospitals

3-rd level (hospitals having 4 basic units plus 6-8 specialized units) – regional hospitals
And 3 specialized levels:
Children's hospitals

Oncological hospitals and Pulmonology hospitals

Nationwide hospitals (university hospitals and institutes)
Additionally, oncology, which is the priority discipline for the state is going to be financed without any limits.
The list of hospitals approved to the Hospital Network will be presented on 27th of June, 2017.
These hospitals will be financed by general budgets assigned to them by the National Health Fund – the institution, which will be replaced by 17 voivodeship (provincial) health departments supervised by Ministry of Health in 2018. Such budgets may be revised every 3 months.
Hospitals, which will exist outside the Network may apply for contracts with National Health Fund, but the amount of money dedicated for such contracting will be ca 9 % of total money in whole public financing for hospital care (currently 30 bln PLN). The 91% of hospital care budget will be dedicated to hospitals as a "lump sum". The other change in Polish health care system is a ban on buying more than 51% of shares in public hospitals by private investors.
Healthcare experts anticipate that most private hospitals will not enter the Network and after that there will be 2 separate sectors of the healthcare system in Poland: public sector financed by public funds and private hospitals with no access to public funds.
The other reform of Polish health care system is introducing state owned providers as the only partners of the National Emergency Health Care System (Emergency care system established in 2006 allowed private companies operating in the system).
And finally, at the beginning of 2018 there will be an introduction of the e-prescription and at the same year e-medical work excuse. These are first symptoms of major information technology changes in the Polish health care system. 
———————————————————————————————-
POLSKA FEDERACJA SZPITALI / POLISH HOSPITAL FEDERATION
"PFSz" 2011-2017
17.01.2017 Jaroslaw J. Fedorowski, PFSz President, among 20 most influential people in Polish healthcare system.
Accordingly to the ranking called "Lista STU" just released by the Pulse of Medicine Journal, Jaroslaw J. Fedorowski, President of the Polish Hospital Federation was listed among 20 most influential people in Polish healthcare system (ranked at 19). The list included 100 persons.
click on http://www.federacjaszpitali.pl/14.html or on the picture below to see information about PFSz in English at older version of our web site (2011-2016)
European Hospital and Healthcare Federation HOPE: Board of Governors 2011
from left: HOPE CEO Pascal Garel (F), HOPE Governor Jaroslaw J. Fedorowski (PL), HOPE President Georg Baum (D)