HOPE Study Tour – Poland Hospitals of Kraków
HOPE Study Tour – Poland
Hospitals of Kraków
25 – 28 April 2020
"NEW-TECHS – Robotics and Telemedicine in Hospitals"
In cooperation with the University Hospital of Kraków
and the NEOHOSPITAL of Kraków
https://www.szpitalnaklinach.pl/
HOPE study tour 2020 04 Krakow
 Visit of Old and New University Hospitals of Kraków. Meeting with management of the newest and most modern public hospital in Poland.
 Polish Hospital Federation conference and discussion with Polish healthcare Authorities entitled: "Innovations in hospitals and healthcare systems – challenges for hospitals in Poland" in New University Hospital of Kraków.
 Meeting with NEOHOSPITAL management and presentation of new technologies dedicated to medical procedures in practice (incl. Da Vinci robotic surgery).
 Meeting with DIAGNOSTYKA company management – Presentation of telemedical diagnostic opportunities.
 Meeting with ALTHEA company management – Integrated Systems of Healthcare Management – Presentation and solutions for hospitals.
 Meeting with USECRYPT company management – Safe database and data transmission in healthcare management – presentation of technology and discussion.
 Price: 490,00 € (including three-night accommodation, meals and local transportation)
IBAN
PL 54 2490 1057 0000 9902 8068 5814SWIFT/BIC
ALBPPLPW
Alior Bank
Łopuszańska 38D, 02-232 Warszawa
Organizer: Polish Hospital Federation / Polska Federacja Szpitali (PFSz)
prof. Jaroslaw J. Fedorowski
PFSz President
Member of President's Committee and HOPE Governor for Poland
Programme Coordinator: Mr. Bogusław Budziński
Vice Chairman, PFSz Supreme Council
National Coordinator of HOPE Exchange Programme for Poland
All person interested to participate will receive a detailed programme by contacting boguslaw.budzinski@b-b.net.pl
Event:  http://www.hope.be/event/hope-study-tour-poland-hospitals/
Study Tour: http://www.hope.be/poland-hospitals/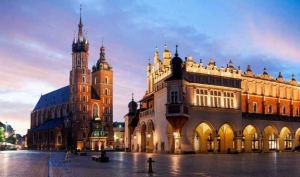 10 Feb 2017.  Commercial attache to the embassy of Israel Ms. Shir Slutzky visited PFSz headquarters.
Ms. Attache met with PFSz President Mr. Jarosław J. Fedorowski and PFSz legal advisor and  Member of High Council  Mr. Andrzej Chełchowski.  Ms. Attache informed about the success of last year's delegation of medical companies from Israel, which was hosted in Poland at the invitation of PFSz – two companies had signed a cooperation agreement with Polish partners in the area of innovative medical technologies.  This year, we are planning a Polish-Israeli meeting focusing on managed care, because Israel is one of the global leaders in this . In 2018, at the beginning of March, we will have a big Polish-Israeli health summit in cooperation with the embassy of Israel. The details we will be presented at our web site and at our FB profile.
17.01.2017 Jaroslaw J. Fedorowski, PFSz President, among 20 most influential people in Polish healthcare system.
Accordingly to the ranking called "Lista STU" just released by the Pulse of Medicine Journal, Jaroslaw J. Fedorowski, President of the Polish Hospital Federation was listed among 20 most influential people in Polish healthcare system (ranked at 19). The list included 100 persons.
News in English 2011-2016